"There are two means of refuge from the miseries of life: music and cats."
Albert Schweitzer








"Compassion for animals is intimately connected with goodness of character and it may be confidently asserted that he who is cruel to animals cannot be a good man." - Arthur Schopenhauer, German Philosopher





"Most people have forgotten how to live with living creatures, with living systems and that, in turn, is the reason why man, whenever he comes into contact with nature, threatens to kill the natural system in which and from which he lives." -
Konrad Lorenz, Naturalist



Cat Poem

Now I lay me down to sleep, I pray this cushy life to keep,

I pray for toys that look like mice, and sofa cushions soft and nice.

I pray for gourmet kitty snacks, and someone nice to scratch my back,

For window sills all warm and bright, for shadows to explore at night.

I pray I'll always stay real cool, and keep the secret feline rule, to never tell a human that the world is really ruled by cats!



Wisdom of Youth

A nursery school teacher was delivering a station wagon full of kids home one day when a fire truck zoomed past. Sitting in the front seat of the fire truck was a Dalmation dog. The children fell to discussing the dog's duties.

"They use him to keep crowds back," said one youngster.

"No," said another, "he's just for good luck."

A third child brought the argument to a close. "They use the dogs," she said firmly, "to find the fire hydrant."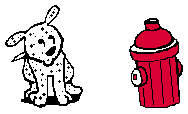 "What kind of life a dog acquires. I have sometimes tried to imagine by kneeling or lying full length on the ground and looking up. The world then becomes strangely incomplete; one sees little but legs."
E V Lucas






"Dogs have given us their absolute all. We are the center of ther universe. We are the focus of their love and faith and trust. They serve us in return for scraps. It is without a doubt the best deal man has ever made." - Roger Caras






















Two Angels
I found two angels on my porch 
Hungry and alone,
I heard their tiny kitten cries
And empty belly moans.
Huddled close behind a box
I found the precious babes,
I fed them lunch
they purred "thanks"
Content my angels stayed.
Dark and dainty angel girl
Fair and feisty angel boy,
Full of life, love, and charm
They fill my heart with joy.
I found two angels on my porch 
Treasures from above,
Huddled close behind a box
Heavens gift of love. 
Adoption Donations


We ask for an adoption donation for each animal. This helps us to continue to help more animals in the future.


Our adoption donation for cats and kittens is $75. The donation also assures you a happy healthy adjusted new friend for life. It covers all the following:

4 in 1 Feline Booster Shot administered by our vet.
The Spay or Neuter of your cat/kitten
Frontline plus or Adams for flea and tick prevention.
De-worming (sometimes several doses)
Rabies shot (age appropriate)
4 pound bag of Science Diet Kitten/Cat food.
Treatment for any other illnesses or problems the cat or kitten has to make it ready for adoption. This can include, but is not limited to, Respitory infections, Ear mites, Dog bites, Urinary Infections and other issues cats and kittens are brought in with.

Our adoption donation for dogs and puppies normally ranges between $100 and $200 but can be a little more on some pets. It covers all of the following:

Basic vaccinations: Adult 8 in 1 Booster for dogs that come in at 6 months of age or older. Three sets of puppy vaccinations (5 in 1) if they come in as puppies.
De-worming of your new dog or puppies (this is given several times)
Heartworm test if the dog is over 6 months of age.
Frontline or Adams for flea and tick treatment and prevention.
Ivomec or Heart guard for Heart worm prevention during the entire time the animal is at our facility.
Spaying or Neutering of the dog (at 4 months for medium to large puppies and 6 months for small breed puppies).
State required rabies vaccination administered by our veterinarian.
A 5 pound bag of Science Diet for dogs or puppies to start your new friend on a healthy nutritional road


A lot of times our animals come from neglectful situations. This can cause some extra care required and extra vet bills. We care for animals with injuries and ailments such as:

Heartworm treatment for dogs who test positive.
Anemia (usually caused from malnutrition and fleas and ticks).
Malnutrition (treated with special foods and extra care).
Broken bones or sprained joints.
Mange (either demodectic or sarcoptic)





"Your Adoption Fees Are Too High"


Some people ask us why we charge an adoption donation at all, and why is it so much. Every Rescuer has heard it: the argument that if we really cared about finding "Good Homes", we would give the dogs away. There are folks who will tell us they could go to a Pet shop and purchase a dog for just a little more than the adoption fee. So what is the adoption fee paying for?
When a dog comes into Rescue, funds must be spent on neutering/spaying, vaccinations, (Rabies, DHLPP, Bordatella), screening for HW and a fecal test for parasites. Vetting expenses on a

healthy

animal can run as high as $150 and more with the larger breeds. De-worming is

always

a necessity, as are vaccinations most of the time. The truth is the majority of found/stray/rescues require much more treatment and care than the average "healthy" animal. Beebe Humane Society treats HW positive animals, pays to set broken bones, to treat illnesses and injuries---providing treatment the original owners either didn't choose to or could not afford. We try to do whatever is necessary, and it can often take $450-$1000 per animal plus several months to return an animal to good health. Most Rescuers do this without benefit of financial backing or resources, choosing to spend money in saving lives, rather then on themselves. I do not know of any Rescue group or Humane Society that makes a profit, or comes anywhere close to breaking even.

If we take in a healthy pet that costs a minimal amount to make ready for adoption, the "profit" from that animal is applied to the vetting costs of the many others who are not as fortunate. Animals are screened for behavioral and health issues, those issues are then addressed, and every attempt is made to make the best possible match with adopting families. Volunteers spend hours on the computer each day seeking the perfect home, help for a dog, or transport from shelter to Rescue or from Rescue to forever home. Setting up transports for these animals may take weeks to arrange, and require 100's of emails. Phone bills are frequently outrageous, as volunteers still find it necessary to call shelters and vets that lack email capabilities, to interview prospective adopters and check their references.
The assumption that Beebe Humane Society is a business, or that we make a profit from suffering, could not be further from the truth. While not all Rescue Groups are created equal, regardless of the size or breed of dog you are looking for, most will ask for a donation to adopt ranging from $100 to $300 dollars.




"I COULD GO TO THE PETSTORE AND GET A PAPERED PUPPY."



Yes, one could go to a Pet Store to purchase a papered Pup for a little more then the donation a Rescue Group may request---and be responsible for encouraging the Puppy Mill industry to flourish. Perhaps there are those who are unaware of the conditions that these animals are born to? Perhaps the thought of that sweet puppy's mother living out her entire life confined to a cage, covered in mange, and barely able to stand does not trouble some folks. However, even if the plight of the pup's mother didn't concern them, if their motivation was to save a few dollars---they would be woefully misinformed. Pet store pups are notorious for costing their owners--not just in the funds to cope with the many health problems, but emotionally--as many owners fight a losing battle with bad genetics, compromised immune systems, and unstable temperaments.

Prospective Pet Owners could also seek a Reputable Breeder, pay $500-$1000 for a puppy and, IF they are responsible Pet Owners, they would still need to spend the funds to properly vet their new pet, (to neuter, vaccinate, etc.).







To those who say:
"IF YOU REALLY CARED ABOUT THESE DOGS AND TRULY CARED IF THEY FOUND 'FOREVER HOMES', YOU WOULD CHARGE NOTHING."

We say:

The Beebe Humane Society cares enough to provide for these dogs when their original owners did not, to screen homes, to invest our hearts, time, and personal funds. We care enough to know that if someone cannot afford a nominal donation for adoption it is likely that person would also be unable to provide proper nutrition and veterinary care for the animal we have loved to health. Volunteers care enough to have researched and know what happens to those "free to a good home" pets-- the neglect, abuse and abandonment that these animals, deemed of no value, will suffer.

We care enough that we cannot be governed by expenses.

Humane Societies devote a lot of energy trying to close down the puppy mills and back yard breeders, the places that breed grief--that victimize the animals and the poor unsuspecting families that love and lose their beloved pets because of greed.

We take calls at all hours of the day and night. Why not--not a one of us sleeps well after the horrors we've seen--and when we do sleep, we hear the whimpering of those animals in our dreams.

Are the fees too high?








Beebe Humane Society
707 HWY 64 West
Beebe, AR 72012
(501) 882-5281 or (501) 680-5326
BeebeHumaneSoc@aol.com